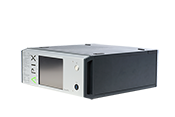 A miniaturized Gas Chromatograph
ChromPix® /ChromPix2® is a modular Multi-Gas Analyzer for industrial and laboratory use. Based on APIX Analytics patented miniaturization technology, ChromPix2® is the first truly Plug & Play GC. It now features unmatched flexibility with up to 4 different analytical columns, up to 4 different carrier gases and the ability to analyse simultaneously 4 different samples.
F eatures
•Electronic and Fluidic Plug & Play
•Up to 4 samples
•Up to 4 carrier gases
•Up to 4 Analytical Columns
The whole analytical chain of a conventional Gas Chromatography system (injection, separation & detection) is embedded within a very small module designed for easy and plug & play use. Each module is tailored for dedicated families of gases through specific separation columns. At the core of all APIX products, these modules can also be multiplexed within a single system for wide application ranges. Very simple to connect and remove, these modules can be changed or recycled upon request and needs. This module will change the Gas Chromatography use model, enabling ultra-compact and evolving instruments, with lower Total Cost of Ownership due to easier maintenance and low carrier gas consumption.
•Easier use and maintenance
•Modular
•Quick analysis with multiplexed modules
•Available cartridges for :
– Permanent gases, light hydrocarbons, H2S
– VOCs, hydrocarbons
– Fuel gasColumns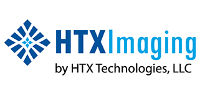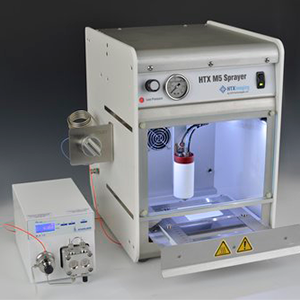 HTX Imaging is dedicated to the ongoing advancement of molecular imaging technologies, with a primary focus on Mass Spectrometry imaging. HTX Imaging draws on HTX Technologies long standing industry experience in scientific instrumentation, including expertise in biology, device engineering, research applications and business development. HTX delivers customized solutions for sample preparation and workflow automation of advanced analytical platforms.
FORENSIC SCIENCE ENVIRONMENTAL SCIENCE PROTEOMICS DISCOVERY DRUG DEVELOPMENT
DANI Instruments S.p.A. designs, manufactures, and markets gas chromatography (GC) and gas chromatography/mass spectrometry instrumentation. The company offers GC solutions, time of flight mass spectrometry solutions, dynamic headspace samplers, purge and trap solutions, thermal desorbers, static headspace samplers, liquid auto-samplers, and multi-task auto-sampler and sample handling stations; gas, liquid, and biodiesel analyzers; and water, soil, and air analyzers. It also offers various software solutions, such as clarity chromatography station, a chromatography software solution that provides the control of the GC solutions and other instruments; MasterLab software solution for acquiring and processing mass spectral data; empower chromatography software that enables laboratory-based organizations to protect their original instrument investment by controlling a range of chromatographic modules. In addition, the company offers GC 1000 to allow the installation of packed and capillary columns, GC injectors and detectors, head space samplers, and consumables and accessories. Its products are used for various applications in environmental, chemical, food and beverage, flavor and fragrance, oil and gas, biological fluids, pharmaceutical, drug and forensic, and industrial hygiene industries in Italy and internationally.

Customized gas standard preparation systems for single and multipoint calibration standards. The GasMix™ can prepare and automatically inject gases in a wide range of analytical instruments. The principle behind GasMix™ is based on mixing, diluting, and injecting 2-4 gas standards using the GasMix™ AIOLOS or 5-12 gas standards using the GasMix™ Hurricane. A rack mount GasMix™ is also available, for liquids we have the LiqMix™ using a Coriolis MFC. Applications include analyzer calibration and validation, odorizing natural gas, synthetic gas mixture generation, glove box atmosphere control, reactor gas feeding, sample conditioning prior to analysis.
Gasmix: Advanced solutions for diluting / mixing up to 16 gases simultaneously with high accuracy, reproducibility and traceability – this is the GasMix™.
LiqMix: is an automated and cost effective way to generate a standard gas from a liquid or liquid mixture down to ppb levels of concentration.
Aura - LPG VAPORIZER: Everyone analyzing LPG (Liquefied Petroleum Gas) or LNG (Liquefied Natural Gas) samples knows challenges created by these products.
Permix: Based on permeation tube technology combined with precise mass flow controllers PerMix is all-in-one calibration solution for laboratory of field use Show more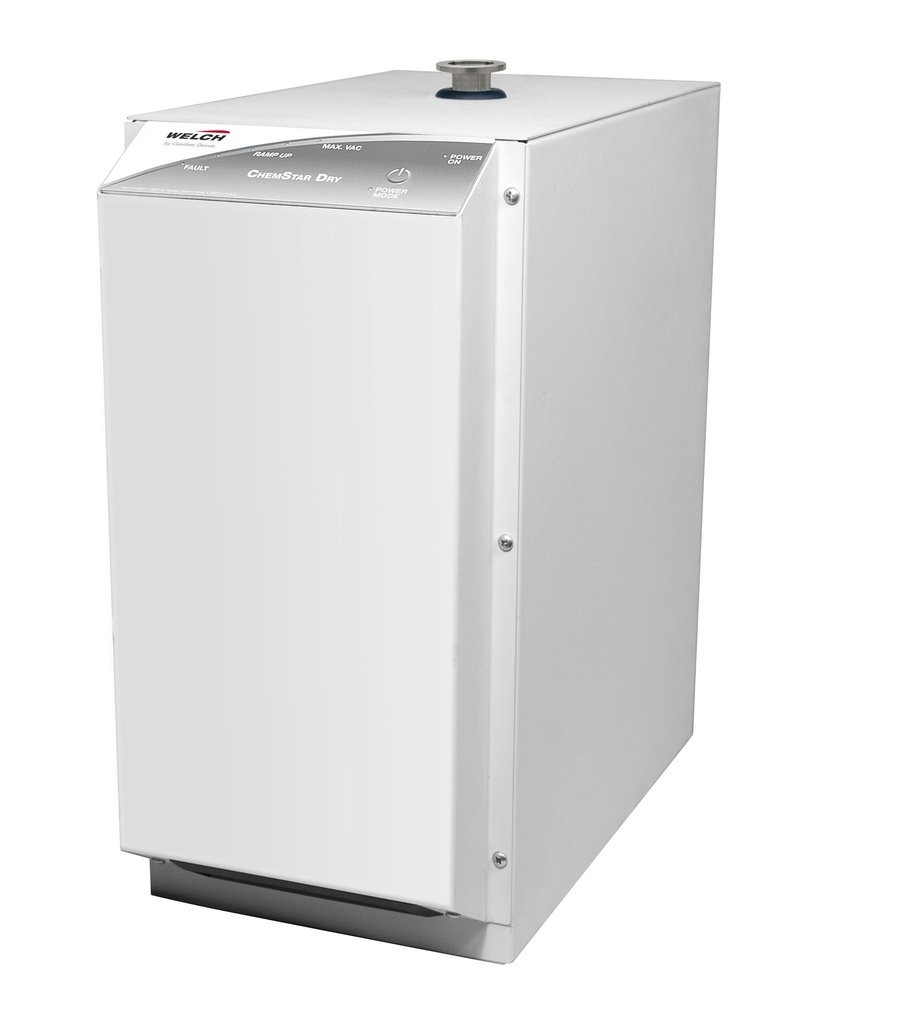 Che mStar Dry - Oil-Free Deep Vacuum System
Eliminate messy oil maintenance, the threat of oil contamination to your sample, and cold trapping in many applications. Handle even high chemical vapor loads for simple, efficient deep vacuum. ChemStar Dry excels where no dry vacuum pump has before – the first practical alternative to oil-seal rotary vane pumps. ChemStar Dry automates High Performance vapor flow (to 150L/min) at working vacuum levels (0.08 to 10 torr). Chemical resistant, max. vacuum is 0.05 torr. Smart system control coordinates vacuum blower / PTFE diaphragm pump operation to respond to any vapor load quickly and efficiently. Self-cleaning air purges remove condensable vapors between runs for repeatable top performance and extended diaphragm life.
Applications include:
•Schlenk line drying manifolds
•Vacuum ovens
•Freeze dryers up to 6 L
•Centrifugal concentrators
•Many other deep vacuum applications
Save the time, expense, and hassle of oil-seal vacuum pumping with ChemStar Dry – a cutting edge product from Welch Vacuum Technology. Consult your Welch Representative for more information on ChemStar Dry.

CRVpro Direct Drive Rotary Vane Vacuum Pump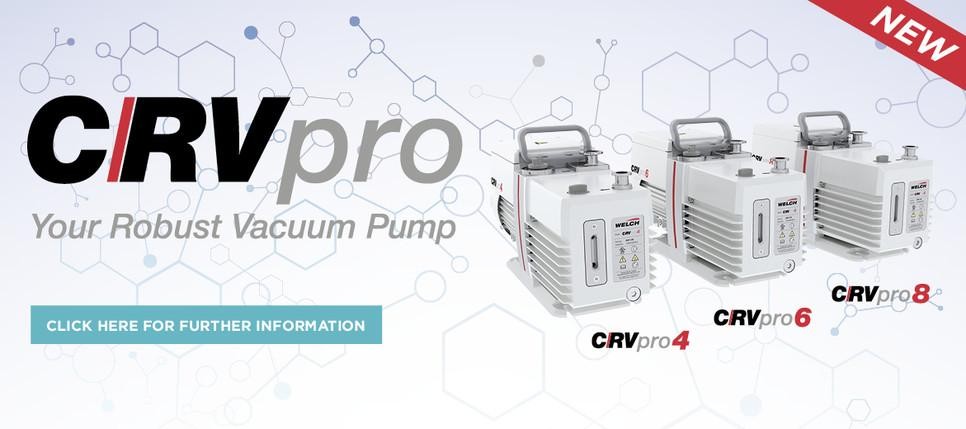 The new CRVpro family of direct drive vacuum pumps offers increased reliability and longer service interval vs. other direct drive rotary vane vacuum pumps. The CRVpro family consumes up to 36% less oil than comparable pumps.
Three features drive these benefits:
- Runs 10°C cooler than comparable pumps. Slows corrosion.
- Has a 40% larger oil capacity than comparable pumps. Dilutes aggressive chemicals.
- Has a chemical resistant coating in the oil case and pump module. Protects non-moving parts.
The CRVpro family includes all the features you'd expect in a direct drive rotary vane pump: gas ballast, forced oil lubrication, anti-suckback mechanism and thermal overload protection. Suitable applications include freeze drying, degassing, vacuum ovens and concentrators. 3161-01 is wired for North American 115V, 60Hz operation. Includes North American line cord, vacuum inlet hose barb suitable for gum rubber hose from 5/8" to 3/4" ID, and a charge of oil. 3162-01 is wired for European 230V, 50Hz operation. Includes 230V North American line cord, UK cord, and skuko cord, and a charge of oil. Direct drive pumps are not recommended for filtration, aspiration, drying electrophoresis gels, or other applications requiring sustained operation above 30 torr.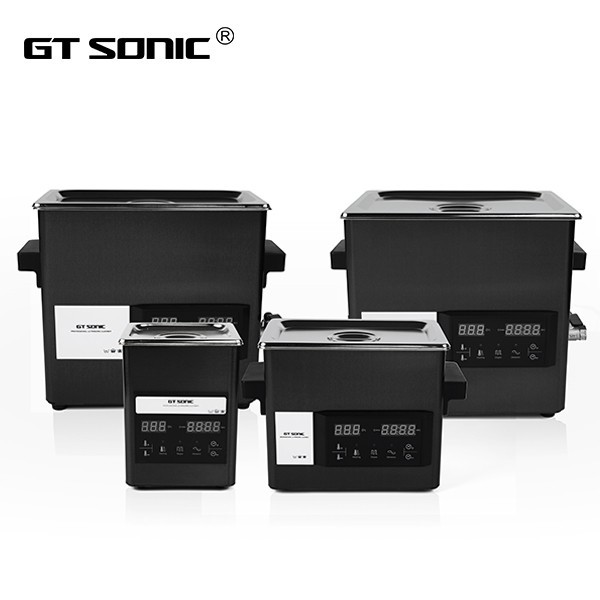 GT SONIC S series, the world's first black Titanium mirror stainless steel bench-top ultrasonic bath, is meant to be the most dazzling star among the numerous commercial ultrasonic cleaners. The titanium black mirror stainless steel plate represents the superior quality and texture of the tank surface, also makes the surface easy to be cleaned and scratch resistance. And there won't be any fingerprints left on
Ultrasonic cleaners provide fast, efficient and consistent method of removing a wide variety of contaminants from many different items. They are widely used for cleaning dental, veterinary and medical instruments, clocks and watches, jewellery, carburettors, tattooing and countless industrial applications. All the models satisfy the highest quality standards with compact and reliable products, essential for fast, deep cleaning of any article having an irregular surface or with a particularly complex shape.
Dental Ultrasonic Cleaner
Medical Ultrasonic Cleaner
Jewelry Ultrasonic Cleaner
Laboratory Ultrasonic Cleaner
3D Printing Ultrasonic Cleaner





New Catalog!!!




Crimp neck vials, crimp closures, septa and accessories




Screw neck vials, screw closures, septa and accessories




Snap ring vials, closures and accessories



Diverse vials



Shell vials and closures



Storage vials and closures
fo

r powdery samples


f

or liquid sample

s

Vial accessories (containers, crimping tools)

VialFinder















Particle SizeCPS Disc Centrifuge,

The world's fastest, highest resolution, and most sensitive centrifugal sedimentation particle size analyzers. Measure virtually any type of particle, between 0.002 and 75 microns, at 2 to 10 times better resolution than any other particle sizing instrument, regardless of measurement technique.

The minimum reportable peak width can be less than 2% of peak diameter.Here are a few of the many applications where the CPS Disc Centrifuge can be used:

Chemical:

· Polymer latexes and emulsions

· Fillers (CaCO3, clay, barites, etc.)

· SiO2 dispersions

· Abrasives (of all types)

· Impact modifier particles

· Oil emulsions

Pharmaceutical:

· Virus particles/virus-like particles

· Cells (culture) and cell fragments

· Protein clusters

· Liposome's

· Particles in diagnostic tests

· Micro-encapsulated drugs

Semiconductor:

· Micro-abrasives

· CMP compounds for integrated circuits

Printing and painting:

· Pigments - water and oil based

· Micro-fiber paint viscosity modifiers

· Printer/copier toner powders Inkjet inks

· Carbon black

· Magnetic iron oxide

Others:

Micro-spheres / Agglomeration patterns / Starch/flour particles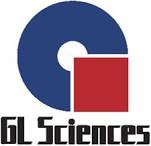 OPTIC is a highly advanced Gas Chromatograph multi mode inlet system with sophisticated temperature and gas flow control that can be used for the most demanding Gas Chromatograph analyses. The OPTIC has a long history starting from 1992. The current version OPTIC-4 can be used for hot injections, cold injections, large volume, on-column injections, in liner derivatisation, thermal desorbtion, pyrolysis and more.
Starting from Evolution Workstation software version 4.5.1 it is even possible to control a Deans' Switch or flow modulator with the OPTIC Multi-Mode Inlet

.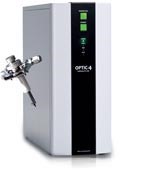 Cold Injections
Large Volume Injections (Solvent Vent)
Thermal Desorption
Pyrolysis (liquid and solid)
In-injector Thermochemolysis
Cryogenic trap
On-column injections
Deans' Switch control
GCxGC Modulation control
Gas Control is compatible with Ethyl Acetate, THF and Acetone
Compatible with PAL SPME-Arrow
The patented* design of the injector body helps to have the best transfer of the compounds from the inlet onto the analytical column. This can be seen both for volatile and non-volatile compounds. OPTIC-4 Multi Mode Inlet can cool very fast because of the low thermal mass. The GC inlet system can work from cryogenic temperatures (-150°C) up to very high temperatures (600°C) with a ramp rate up till 60°C/sec. Depending on solvent type, liner type and injection speed it is possible to inject from 0.1µl till 500µl in the OPTIC inlet. With the optional inlet peltier cooler it is possible to cool faster and reach initial temperatures of 7°C
The OPTIC-4 can be configured in different versions, options are; CryoTrap, Auxiliary Electronic Flow or Pressure Control, LN2 or CO2 cooling and also a standalone CryoTrap. The OPTIC-4 can also be supplied in custom build versions, from single version to OEM version. A special version with compatible inlet for the industry standard ¼" thermal desorption tubes or custom size liners. For special inlets the heating specifications may be different

GC Accessories


Leak detector


LD239 is used for checking gas leakage when replacing a capillary column in a Gas Chromatograph or other tubing at the Gas Chromatograph. LD239 detects gas leakage and indicates by LED and LCD, and also alarms immediately.




GL Sciences' Gas Leak Detector LD239 adapts thermal conductivity technique between target gases and referential gas. Being the smallest, lightest and the most sensitive on the market, the LD239 detects up to 0.0005mL/min of helium gas. With the USB port, the LD239 can be recharged easily anywhere



Chromatography Accessories and Supplies
Tubing and Capillaries

All of Applied Research tubing is extruded from virgin materials manufactured by the original manufacturer of each material. We do not allow substitutes for our raw materials.

Applied Research SS fittings are manufactured different materials for both high and low pressure applications. We take a pride in our work and make sure that we only use the finest materials available

Filters and Frits

All of Applied Research metal filters are manufactured by Applied Porous Technologies. All other material is manufactured in our own facilities.

HPLC Columns

Choose between Applied Research PEEK or SS column line in many different dimensions.

Tools

When working in Chromatography you will need a kaleidoscope of tools. Applied Research offers you all the tools you are looking for.

Accessories

Beside Solvent Recycler, Degasser and other useful accessories, Applied Research Europe offers a line of manual injection and switching valves